ALCHEMY SUITE
// Care guides //
Brow Lamination
.
big, fluffy and fierce
// WHAT TO EXPECT FROM YOUR BROW LAMINATION
Brow Lamination was made for those who love bigger brows.
Your newly laminated brows amplify the volumetric appearance of your brows by stretching and straightening your brow hairs to make your overall to not only look bigger but also more manageable to style.
Your individual brow hairs will stay straightened for 8+ weeks or until they naturally shed from your forehead as part of their regular growth cycle.
Some brow hairs will be laminated halfway through their growth cycle and you will be able to see in the hair shaft where they kept growing after your lamination.
Humans generally replace their entire set of brows every 60-90 days naturally. During this process, your body will shed your laminated brow hairs and subsequently regrow them with the same natural curl and texture they had before your Brow Lamination.
As your Lash Lift reaches the end of its life-cycle, some Humans may find their brows a little more unruly due to the increased mix of and virgin hair in their brows. A quick flick of Brow Tamer or Brow Gel ( preferably clear) is all that's needed to help realign them and bring them back into harmonious synchronisation.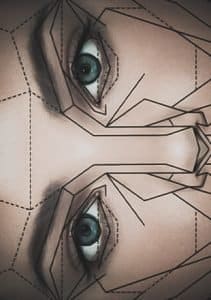 q u i c k t i p s
// critical Data
1 // Your brows will continue to neutralise over the first 24 hours so keep your brows dry + steam free during this time.
2 // Avoid applying any face creams or serums to your brows for the first 24 hrs.
2 // Avoid applying any makeup or makeup remover for the first 24 hrs.
4 // After the first 24 hrs your Brow Lamination is 100% life-proof.
5 // Your brows will need a good realigning brush each morning.
6 // Treat yourself to a new, beautiful Silk Pillowcase.
7 // Please wait 8+ weeks before re-laminating.
8 // Your brows are suitable for shaping and/or henna treatments 3+ weeks after your lamination.
// 01
super +/- natural
// the first 24 hours
After 24 hours, your Brow Lamination has fully neutralized and is almost entirely life-proof and maintenance free for 8+ weeks but, there are a few essential things to keep in mind until then to ensure the very best results possible.
Above all else, be SURE to keep your brows dry and free from all cleansers, solvents and sources of heat for the first 24 hours.
---
When showering in the first 24 hours, please ensure you keep the shower stream no higher than your décolletage and please don't attempt to wash your hair.
---
We recommend humans use a warm, soap-free face cloth to clean their face the first night – being sure to keep the washcloth away from wetting their brows.
---
Humans are generally advised to wait a complete 24 hours before applying any face creams/serums – especially in the eye/forehead reigon.
---
Please strictly avoid the temptation of wearing any brow pomades, pencils, shadows, soaps, gels or makeup remover for the first 24 hours.
---
orbit
TUE + WED..…………………………….10:00 – 19:00
THU………………………………………….10:00 – 18:00
FRI……………………….…………………..10:00 – 17:00
SAT…………………………………………..10:00 – 14:00
SUN + MON…….………………………..Closed
frequencies
mothership
Address…………………………………..49a Svensson Street, Bundaberg
Phone……………………………………….0426 836 212
Email………………………………………..hello@alchemysuite.com